Chicken, Ham, and Asiago Cheese Roulades
It takes about 20 minutes of your time with an additional
10 minutes in the oven - just enough time to throw together
a

salad

, set the table, and pour the

wine

!
Begin by rolling up chicken cutlets with slices of cooked
ham and

Asiago
cheese slices. Swiss cheese works well too, but
I had Asiago cheese in the frig leftover from a Soppressata salami and Asiago
cheese appetizer. You will want to secure each

Roulade

with a toothpick.
(These can be prepared but not cooked up to a day in advance.
Keep covered in the frig.)
Then

brown

all sides. As I turn the roulades, I move the toothpicks
around but
am
sure to keep the

chicken

secured.
They then go into the oven for 8 to 10 minutes to finish cooking.
I made a side salad of

Boston

lettuce, dill and added these
heirloom
tomatoes
from
my whiskey barrel tomato garden.
This is the

heirloom

tomato called

Green Zebra

.
This

heirloom

tomato is called

Pineapple

.
For a salad dressing, I just used whichever one I had in the
frig. Tonight it was Trader Joe's

Champagne Pear

Vinaigrette.
Chicken, Ham, and Asiago Roulades
Source: Adapted from a recipe in Real Simple: dinner tonight, done!
Kosher salt and black pepper
8 thin slices Asiago cheese
whole-grain mustard, to serve along side
Heat oven to 400 degrees. Season the chicken with 1/2 teaspoon salt and 1/4 teaspoon pepper. Roll up each cutlet with 1 slice of the ham and 1 slice of the Asiago cheese. Skewer the roulades closed with toothpicks.
Heat 2 tablespoons of the oil in a large ovenproof skillet over medium-high heat. Add the roulades and cook, turning occasionally, until golden brown, 4 to 6 minutes. Transfer the skillet to oven and roast the roulades until cooked through, 8 to 10 minutes.
Serve roulades with the whole-grain mustard.
I hope you enjoy this recipe and thank you for visiting!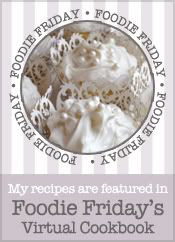 ~ Karen