Peach Crumbles

... It all began with
my s
ister and niece going peach picking.
They came by with six grocery bags full!
I began sorting the too ripe ones, from the not ripe ones,
from the mushy-fell-on-the ground-

must-eat-now

-ones.
I was much too busy to even think about taking
pictures at that point in time, so sorry.
I did manage to blanch, peel, slice and bag up
many
to send them home with. I think they even
gave away a few of the bags to friends afterwards.
And, of course, I was left with some of the peaches (

yay

!)...
Many of which ended up being blanched, peeled, sliced, and
placed in ziploc bags for

my

freezer and for another day and time.
I held out 2 lbs. of my sliced peaches for Peach Crumbles.
but left out the blueberries. The peaches were
combined with sugar, flour, lemon juice, and lemon zest,
then spooned into individual ramekins.
The crumble for the top was made with flour, sugar, brown
sugar, cinnamon, and cold-diced butter. It was a much lighter
crumble than those crumbles that include oats.
They were then baked to over-flowing

deliciousness!
A little messy, but I think that gives them their
I always take an opportunity to serve a

pretty

dessert.
Using pretty plates makes it all seem so

special

.
I found these

beautiful

dessert plates at either Ross Dress For Less or
Marshall's in bundles of six. They look like fine,

dainty

, china but are in fact
dishwasher and microwave safe. It doesn't get better than that - pretty AND tastey!
Now, hmmmm what will I do with the other peaches?
This week, I will be joining: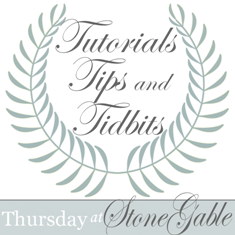 Thank you for visiting and enjoy!
Fondly,
~Karen