Like Independence Day, we all

like

to come up with foods
representing either

red

,

white

, or

blue

, or a balance of all three.
This

Memorial Day

was spent on my mother's patio and an
appetizer I prepared, in keeping with the RW&B, was
this Red Pepper Dip. Known as Muhammara in
Turkish cuisine, it is made throughout the Middle East.
It is typically made with red bell peppers or hotter peppers
and includes coarsely ground walnuts, bread crumbs,
and pomegranate molasses, which can be purchased
in Middle Eastern markets (while you are there,
also pick up some Rose Water!).
I intentionally left out the walnuts from my version
because I have family members who cannot eat nuts.
My version also remained on the

sweet

side with
hardly any heat.
If you have never eaten or made
Muhammara, do
give it a try. I think you will be
pleasantly

surprised
how nice the flavor is.
It is
typically served with
toast or bread and can also be served
with kebobs. I enjoy it drizzled over grilled vetetables.
I decided to serve it with a really cool bag of
red,
natural, blue, and orange
potato chips I found at the
market which provided the

perfect

color for my color theme.
Muhammara

-

Red Pepper Dip
1 lb. red bell peppers (I used 4 medium)
1 1/2 Tbsp. pomegranate molasses (Taste as you go!)
Fresh lemon juice, to taste
a couple quick sprinkles of red pepper flakes
2 tbsp. bread crumbs (or more)
1. Roast and char each bellpepper on the open flame on the stove top. (Can also be roasted in a 500 degree oven - lightly rub in neutral oil). Place in ziploc and steam. Remove skin and seeds. Rough chop and place in food processor.
2. Heat neutral oil in skillet and cook onion until translucent. Add to the food processor.
3. Add remaining ingredients except for the bread crumbs, salt & pepper. Give the processor a good whirl. Give it a taste and adjust any of the ingredients as you wish.
4. Add bread crumbs. Depending on how much liquid the bellpeppers let off will determine how much bread crumbs you will need. I added them until I got the dip the consistency I wanted. Add salt & pepper to finish.
I will share this recipe on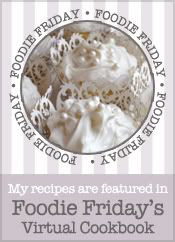 Have a great week and

thank you

for visiting!
Fondly,
~Karen