The current June/July Fine Cooking Magazine features a cut of meat
called Sirloin Tip Steak. I found this cut at Costco for $5.99/lb.
in a four pound package. I brought it home and portioned it
out, packaging four separate freezer ziplocs. Three went into
my freezer and one remained refrigerated for tonight's dinner
which featured the magazine's recipe using the meat for
Sear-Roasted Sirloin Tip Steaks with

Cafe de Paris Butter

.
(French?!)
Earlier in the day I put together the Cafe de Paris Butter which is
a

compound butter

flavored with tomato paste, smoked paprika, curry
powder, shallots, chives, capers... and the list goes on. Next time
I will cut down on the smoked paprika but, other then that, it was

tastey

.
The Sirloin Tip Steaks were cut into portions, paper towel-dried, salt &
peppered, seared stove-top, then finished cooking in the oven.
I accompanied it with another recipe from their magazine
for
Herb-Roasted Potatoes and Onions baked in a 450 degree
hot oven.
A

quick tip

, having made them, is to keep the
bed of sliced
onions directly underneath the potato halves
to keep them
from
burning on the pan in the hot oven.
To round out the dinner I fired up my grill for quick grilled
romaine
hearts. I drizzle them with olive oil, sea salt
(easy does i
t!),
and
freshly ground pepper. I then place them
on the grill until they
have a slight char. They are good
still warm or at warm
temperature. A chopped tomato would
be nice color and taste
added before the
Caesar dressing,
but I went really

simple

here. I chose to
just do a

quick
char
on the grill
then drizzled the Caesar dressing over them.
The Sirloin Steaks came out

nicely

, medium rare like I like them.
A slice of the Cafe de Paris Butter was added to each top then served.
The butter was

delish

and the more the better!
It was a

delightful

weeknight dinner.
My opinion of this cut of meat is that it can be a bit chewy, but do
give it a try! I think
it
will try it next in a marinade then a
low-and-slow cooking to
really
break it down and make it more tender.
Sear-Roasted Sirloin Tip Steaks with Cafe de Paris Butter
Ingredients:
4 oz. (1/2 cup) unsalted butter, softened
1/2 tsp. fresh lemon juice
1/2 tsp. Worcestershire sauce
1/2 tsp. hot smoked paprika
Kosher salt and freshly ground black pepper
1 medium shallot, minced (about 1/4 cup)
2 Tbs. chopped nonpareil capers
1 tsp. chopped fresh thyme
1-1/2 lb. sirloin tip steaks (about 1 inch thick), cut into 4 portions
2 Tbs. extra-virgin olive oil
Directions:
In a small bowl, mix the butter, tomato paste, mustard, lemon juice, Worcestershre, paprika, curry powder, 1/2 tsp. salt, and 3/4 tsp. black pepper with a fork until smooth. Stir in shallot, chives, capers and thyme. Transfer the butter to a large piece of plastic wrap. Using the plastic, roll the butter into a log about 2 inches in diameter, twist the ends to close. Refrigerate for at least 2 hours.
Position the rack in the center of the oven and heat the oven to 400 degrees F. Season the steaks on all stides with 1 tsp. salt and 1/2 tsp. pepper. heat the oil in a heavy-duty 12-inch skillet over medium-high heat until shimmering hot. Add the steaks and cook, undisturbed, until browned around the edges, 2 to 3 minutes. Flip and cook until the over side is browned, 2 minutes. Transfer the skillet to the oven. Roast until cooked to your liking, 4 to 6 minutes for medium rare (130 degrees F to 135 degrees F). Transfer to a cutting board, tent with foil, and let rest for 5 minutes. Serve each steak with a slice or two of the butter on top.
Herb Roasted Potatoes and Onions
Source: Fine Cooking
Ingredients:
1/4 cup extra-virgin olive oil; more for the baking sheet
2 lb. small (about 1-1/2-inch) potatoes, halved
Kosher salt
2 Tbs. coarsely chopped mixed hardy fresh herbs, such as rosemary, savory, and thyme
1 large onion, halved lengthwise and thinly sliced
1/2 cup coarsely chopped mixed tender fresh herbs, such as chives, parsley, and tarragon
Flaky sea salt for serving (optional)
Directions:
Position a rack in the center of the oven and heat the oven to 450 degrees F. Oil a large rimmed baking sheet. In a medium bowl, toss the potatoes with the olive oil and 1 tsp. salt to coat. Sprinkle the hardy herbs over the bottom of the baking sheet, spread the onion slices over the herbs, and top with the potatoes, cut side down. Scrape any olive oil remaining in the bowl over the potatoes.
Roast until the potatoes are tender and brown on the edges, 30 to 35 minutes. Transfer the potatoes and onions to a bowl and toss with the tender herbs. Season to taste with sea salt, if using, or kosher salt and serve.

Enjoy!
I will be joining: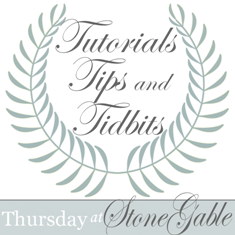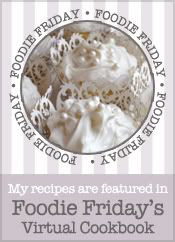 Fondly,
~Karen