Southwestern Beef Kabobs on an Orzo Salad
It starts with a

cool

bed of Orzo Salad full of vegetables tossed with
a

sweet

lime-jalapeno dressing. You can adjust the amount of
jalapeno,
depending on how much heat you want.
The

beauty

of this salad is that you can make it 24 hours before serving.
I find it helpful to throw a salad like this together before going to work
in the morning. When I get home, I just have to grill the meat.
The Beef Kabobs are southwest because of the spice rub they are coated with.
Chili powder and cumin are the predominate flavors but added to those
is the kick of ground oregano. These Kabobs can be grilled or broiled.
The

make ahead

tip is to cube the beef in the morning or night before
when making the salad.
I also put the spices in a separate gallon Ziploc ahead
of time.
I combine
the beef cubes with the spices just before lighting the gas
grill.
Give them a
good

shake to coat well, then thread them onto
the wet
skewers as the grill is preheating.
Southwestern Beef Kabobs with Corn and Orzo Salad.
Source: Better Homes and Gardens: Make & Take
2 cups fresh corn kernels (4 ears)
1 medium orange sweet pepper, cut into bite-size pieces
2/3 cup grape tomatoes, halved
1 14.5- to 15-ounce can kidney beans, rinsed and drained
1/2 cup thinly sliced red onion
1 small zucchini, halved lengthwise and sliced
1 teaspoon finely shredded lime peel
1 fresh jalapeno chile pepper, seeded and finely chopped
2 tablespoons snipped fresh cilantro
1 teaspoon ground oregano
2 pounds boneless beef sirloin, cut in to 1-inch cubes
1. Soak skewers in water for at least 30 minutes.
2. Cook orzo according to package directions, adding corn kernels for the last minute of cooking time. Drain orzo and corn in a colander; rinse with cold water.
3. In a large bowl combine orzo, corn, sweet pepper, tomatoes, beans, onion, and zucchini.
4. In a small jar with a screw-top lid combine olive oil, honey, lime peel, lime juice, garlic, jalapeno, snipped cilantro, and salt. Shake well. Add dressing to orzo mixture, mix well.
5. In a resealable plastic bag combine chili powder, garlic salt, cumin, and oregano. Seal bag and shake to mix. Add beef cubes to bag. Seal bag and shake to coat. Thread beef cubes evenly onto bamboo skewers.
To broil:
6. Preheat broiler. Place kabobs on the unheated rack of a broiler pan. Broil 3 to 4 inches from heat for 8 to 12 minutes or until desired doneness, turning once.
For gas grill or charcoal grill:
7. Preheat grill. Reduce heat to medium. Place kabobs on grill rack over heat. For a gas grill, cover. For a charcoal grill, uncovered, over medium coals. Cook for 8 to 12 minutes or until desired doneness, turning once halfway through grilling.
I will be joining these parties:
Stone Gable's On The Menu Monday
and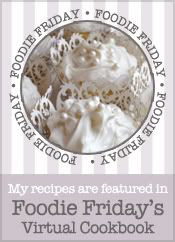 Wishing everyone a great week!
~ Karen