I have been a

fan

of Ina Garten for years!
You all may know Ina as Barefoot Contessa.
I have been

cooking

my way through her cookbooks for years
and
my cookbooks show it! They are well-seasoned and well-

loved!
a critique. (This

potato-fennel gratin

is to die for!) I like to also
write the names of the guests I served
it to - to avoid ever
serving
the same dish to them twice! Do any of you do that?
I will even add my own

personal

touches
like this picture on
the
left
of my

niece

on her 7th birthday
which
I
taped onto that cake's recipe page!
stove! I recall stamping out the singe and kept on

cooking

!
I later
taped over the singe to preserve the cover. All

better!
I have been slowly making my way
though each and every one
of her cookbooks and, by the end of the year,
I have had a
goal to finish making

everything

in her first book.
I've said I'm going to do it for a very long time so I finally set a goal
this year (one of my New Year's Resolutions actually)
to accomplish it.
As I
speak
type,I am down to 4 or 5
savory
dishes but a number of
desserts
and

breakfast

recipes are yet
to be made! Won't those be
yummy
?
I was recently on her website and noticed that Ina now has
Ina's Blog
.
Yes, she's joined us all in blogland! She
currently has three posts so we all can get in early
and not miss a thing! She tells us what she's been doing and
includes links to

favorite

recipes
and resources
to some of her

favorite

things.
I also saw on her website that
she has another book coming out
this Fall named
"Barefoot Contessa Foolproof". I did not know that. How

cool

is that?
I'm thinking
I may need to accomplish my goal before this new one
comes out!
I had better get busy cooking...
Join me this week for the following linky parties: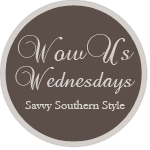 Thank you for visiting me!
Fondly,
~ Karen