My mother's mother (my dear

grandmother!

) made this

Tamale Pie
for her growing family and my
mother

made this Tamale Pie for me, my
brother, and sister
growing up. In fact,
as a working mother,
it was a monthly staple
served with only a green salad.
As a mother myself, cooking nightly, I made it for
my children. It didn't take long
to understand why this recipe was such a
staple because when having the ingredients on hand,
it can
be
made using
only one skillet, baked,
and out of the oven
in 30 minutes!
As the recipe reads below, t
his Tamale Pie is usually made in one cast iron
skillet. B
aked, and

plopped
just out of the oven down onto a
hot pad at the table.
You can read about how I pre-seasoned and
readied
these small skillets for use HERE
With these small cast iron skillets in mind, I set a table
imagining
the small
skillets
as the top "plate" layer (with the help of a

sweet pea

!).
I
love
the
way the dark color of the skillets
coordinated
with the darkest
color in the table runner.
It made such a pretty picture, but I had to gather them up to
prepare them
for baking the Tamale Pies.
($1 each at WalMart!)
Often used for salsas and guacamole,
I
used them for serving our
f
irst-course

salads

while our Tamale Pies
were
finishing baking.
Of course, you normally would make and

bake

this is one 10-12 inch cast iron skillet
but I will be making it and transferring it into the small cast iron skillets.
It begins by browning a pound of ground hamburger and 1 chopped onion together, draining any grease,
then adding 3 small cans of tomato sauce,
1 can of cream corn, 1 small can of sliced olives, and 3 tablespoons chile powder.
This simmers on top of the stove while you combine the topping. Here they are
divided between the four little skillets. (

Yes

, I did have extra leftover
that I baked alongside in a smaller baking dish for lunch the next day!)
The

cornbread

batter topping is added and then they are put into
the
oven at 400 degrees for 20 minutes.
I took them out and let them

rest

for a couple minutes while we finished our
salads, then I placed one skillet on each individual plates.
The

best

part is t
his Tamale Pie recipe truly is a 30-minute meal. The recipe is
easy to remember and easy to throw together for a

tasty

homemade dinner!
Source: My Grandmother
1 lb. ground hamburger
1 small onion, chopped
salt and pepper, to taste
In a large (10-12 inch) cast iron skillet, brown together. Drain off any grease.
Then a
dd to the pan:
1 small can sliced olives
1 can cream corn
3 small cans tomato sauce
3 tablespoons chile powder
Let simmer while you prepare the cornbread batter topping.
Topping:
1/2 cup flour
1/2 cup corn meal
3/4 cup milk
1 egg, slightly beaten
1 1/2 teaspoon baking powder
1/2 t. salt
2 tablespoons sugar
1 tablespoon vegetable oil
Pour topping batter evenly over top and bake at 400 degrees for 20 minutes until cornbread is set.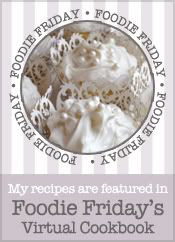 Fondly,
Karen