Okay, I obviously lagged a week but I wanted to
give

kudos

to my oldest daughter for her Mother's Day Brunch
she held for me, my mother, and my sister ("the moms").
(But made healthier. Thanks Sweetie!)
She said she

lightened

the banana pudding by
using

light

cream cheese and

light

pudding.
The Caprese Egg Sandwiches were a newbie to me and I found
them to be

delightful

and wanted to share how she made them.
She sliced a

nice

sourdough bread, topped each slice of sourdough
with a spread of basil pesto, slices of tomato and mozzarella,
and a medium

sunny-side

up egg.
She then popped them all into the
oven
to slightly melt the cheese (warming them up!)
and garnished them
with fresh basil leaves.
They were

delicious!
My daughter

enjoys

cooking, just like her mom. (Me!)
My mother reminds
me of how I used to often have one of my
small children up on the counter top with me "helping"
as I cooked. I guess the seeds were planted!
It was a

great

day to be a mom!
This week I will be joining these hostesses: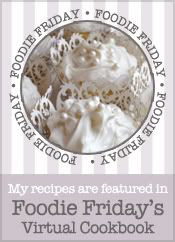 Fondly,
~Karen