We seem to start a little later here in Southern California but
I'm beginning to feel it in the air
and mornings have been

crisp

!
Fall to me screams warm soups and making bread!
I was looking through a local newspaper insert
and found this

delicious

(and

healthy

) vegetarian chili recipe.
Tomato Lentil Chili
served from my ever-faithful Le Crueset pot (stove to table!)
and
served
in lion head bowls from Sur Le Table.
Pick up a bowl (and spoon!) and enjoy!
This recipe includes bulgur along with the lentils for
a

quick

-cooking, high-fiber vegetarian chili that is

perfect

for fall!
I used Schilling's Mexican-Style Chili Powder which has a
respectable punch of heat, but I like it hot! so I added a bottle
of El Pato hotsauce on the side to add additional heat!
So let's bring out our Fall decorations and

enjoy

a great bowl of chili!
Do you have a favorite soup or chili recipe for Fall?
Source: Recipe by Serena Ball for Relish.com
1 medium red bell pepper, chopped
1 cup dry lentils (red or brown)
1/2 cup quick-cooking bulgur
2 (14 1/2 oz) cans fat-free, reduced-sodium vegetable broth
1 (14 1/2 oz) can petite diced tomatoes
2 tablespoons chili powder
Freshly ground black pepper
Yogurt, chopped red onion and hot sauce (optional)
Heat oil in large saucepan. Add onion, bell pepper and garlic; cook 7 minutes. Add remaining ingredients except toppings. Simmer 30 minutes. Serve with yogurt, onion and hot sauce.

Please join me this week at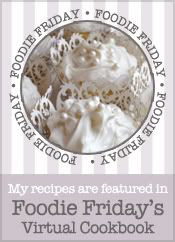 Have a

great

and

delicious

week!
~ Karen