Pasta and veggies all in a pot and cooking at the same time.
A great dish to use leftover veggies with.
You will want to begin by prepping all your ingredients:
chopping asparagus, slicing mushrooms, slivering garlic cloves,
and pinching off a sprig or two of fresh thyme.
Shredded Parmesan will be added at the end along with some cream.
Tonight I have decided to serve along side hot and buttery french bread.
This buttery and baked hot bread by The Pioneer Woman which
she calls The Bread is French bread slathered on both sides
with lots of butter then baked and finished under the broiler
until dark brown and begins to burn. That's right,
she actually says, "... begins to burn."
Once prepped and ready to go,
add all the veggies along with the dried pasta and water
to a stockpot along with salt and pepper.
Bring to a boil and simmer, uncovered, until pasta is cooked
and vegies are tender. Give the pasta a stir frequently so it does not
stick to itself. The liquid will actually reduce on its own.
Parmesan is stirred in at the end, along with cream,
and Voila! it is done. Serve immediately with
some extra shredded Parmesan on the top
and that delicious hot bread!
1/2 lb. asparagus, cut diagonally in apx. 1" pieces
2 cloves garlic, cut into thin slivers
Kosher salt and ground pepper, to taste
1/3 cup grated Parmesan cheese
In a large stockpot, add the dried spaghetti, mushrooms, asparagus, garlic, thyme sprigs, and water. Season with salt and pepper.
Bring to boil, reduce heat to a simmer and let cook, uncovered, until pasta is cooked through and liquid has reduced, apx. 20 minutes. Stir in Parmesan cheese and heavy cream. Serve immediately.
I will be linking up with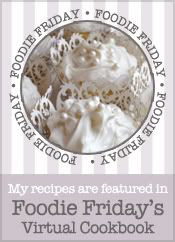 ~Karen