My sister recently had a birthday. She is a

lover

of anything pumpkin.
Growing up, she often requested a pumpkin pie as her birthday cake.
Yep! Candles on a pumpkin pie!
I came across a recipe for Pumpkin Pie Fudge on
side the
Pumpkin
Cream Cheese Ganache
layered
cake I made for her birthday cake.
It w
as
equally

delicious!
Visit again for a future post for that recipe!
The fudge recipe is fairly simple with the first six ingredients
being cooked stove-top to soft-ball stage then the white
chocolate chips, vanilla, and marshmallow creme stirred in.
No waiting fo
r butter to soften. I always like that!
I used an 8" square baking pan instead of the original
listed 9x13 in order to get the height of the fudge I preferred.
I also left out the nuts because I have family members who cannot eat them.
I used some of the finished fudge as party favors at the place settings
with other fudge placed on a candlewick depression glass
plate sitting on the tabletop.
The next day, I placed the remaining fudge in candy
wrappers and delivered them to a dear neighbor.
Autumn to me is all about seeing how many different pumpkin
items I can make - some new recipes and some old favorites.
This Pumpkin White Chocolate Fudge is a nice
surprise
for
guests and
incredibly delicious!
Here is the recipe:
Pumpkin White Chocolate Fudge
3/4 cup butter (1 1/2 sticks)
5 oz. can evaporated milk
2 1/2 tsp. pumpkin pie spice
2 cups white chocolate chips
1-7oz jar marshmallow cream
1 cup chopped pecans or walnuts (optional)
Line a 9x13 inch baking pan (I used an 8x8!) with foil or parchment paper, leaving some hanging over the side for easy removal. Combine the white sugar, brown sugar, evaporated milk, pumpkin, butter and pumpkin pie spice in a mediums saucepan. Bring to a full rolling boil over medium heat, stirring constantly. Boil, stirring constantly, for 10-12 minutes or until candy thermometer reaches 234 degrees to 240 degrees. Quickly stir in the white chocolate chips, marshmallow cream, pecans and vanilla. Stir vigorously for 1 minute or until the white chocolate chips are melted. Immediately pour into the prepared pan. Let stand on wire rack for 2 hours or until cooled. Refrigerator tightly covered overnight. Cut into 1 inch pieces. Best stored in refrigerator.
(Note: If you don't want specks of white chocolate showing, melt the white chocolate chips in the hot sugar mixture first before adding the marshmallow creme.)
There is still time to give this seasonal fudge a try before
the holidays are upon us. I
hope
you do!
Thank you
for visiting my blog!
This week I will be joining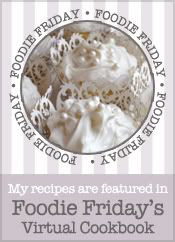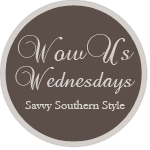 ~Karen