Farro Salad with Tomatoes and Herbs
It is sold dried and is prepared by cooking in water.
It cooks soft but a

nice

bite remains.
It is often used in salads and soups and can be ground
into flour and used to make pasta and bread.
If you haven't tried it, give it a try!
and fresh herbs. I

enjoy

the freshness it has from using fresh
ingredients and the crunch of the
sweet

onions are a
real taste

delight!
The balsamic vinaigrette gives some added moistness and flavor.
I began by adding the farro, water, and salt to a saucepan
and
cooking it for 30 minutes. Don't be afraid to give it a
taste at the end to check out its bite. You may feel you want it
a tad softer so cook it a tad longer!
My chopped tomatoes, herbs, and sweet onions are
prepped in a bowl along with the vinaigrette and are on
standby
while the farro cooks.
Once the farro is cooked, drained, and cooled, I combine all the
ingredients, give it a stir...
then I pour over the vinaigrette and stir it well.
I have yet to refrigerate it overnight because I can't stay out
of it
the second
it is mixed!
For a light, healthy meal, this is all I need.
Eating it makes me feel like I am being SO

good

to my body.
Farro Salad with Tomatoes and Herbs
Courtesy of Giada De Laurentis/Food Network
Ingredients:
10 ounces farro (about 1 1/2 cups)
2 teaspoons salt, plus more to taste
1 pounds tomatoes, seeded and chopped
1/2 sweet onion (recommended: Walla Walla) chopped
1/4 cup snipped fresh chives
1/4 cup finely chopped fresh Italian parsley leaves
1 large garlic clove, minced
2 tablespoons balsamic vinegar
Freshly ground black pepper
1/4 cup extra-virgin olive oil
Directions:
Combine the water and farro in a medium saucepan. Add 2 teaspoons of salt. Bring to a boil over high heat. Reduce the heat to medium-low, cover, and simmer until the farro is tender, about 30 minutes. Drain well, and then transfer to a large bowl to cool.
Add the tomatoes, onion, chives, and parsley to the farro, and toss to combine.
In a medium bowl, whisk together the garlic, vinegar, salt, pepper, and olive oil. Add the vinaigrette to the salad and toss to coat.
The salad can be refrigerated overnight. Bring to room temperature before serving.
This week I will be joining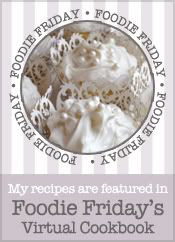 Thank you for stopping by!
~ Karen