I try to eat fish a couple of times of week for the benefits
of the Omega 3's. Supposedly, they contribute to every inch of
our
beautiful

bodies - from our hearts to our minds!
Keeping that in mind, one of my

favorite

fish to eat is salmon.
But not every day am I able to pop in and buy a

fresh

piece of fish!
Costco sells these

nifty

individually wrapped salmon portions in a bag
on
their freezer aisle.
Depending on how hungry you are (and if you are
sharing it, how
hungry they are), you can get two meals out of one.
Or, okay, one meal and the other half is lunch for the next day
(crumble cooked salmon, then add capers, chopped red onions,
and a
sprinkling of olive oil and champagne vinegar.

Yum!

).
But, I'm feeling

pretty

hungry tonight so I'm eating it
all - and not sharing!
It's just me!
This is one of my old stand-by meals I can make in a

pinch

because I usually have
both the pesto in the frig and the salmon portions in the freezer at all times.
The salmon defrosts fairly quickly but its always best to think ahead and
place in the frig to thaw in the morning
before you head out!
As you can see, I just use purchased pesto and

plop
some
down on the
baking dish, sit the rinsed and patted-dry salmon on top,
then

slather
a
little more on its top. Bake at 350 degrees for exactly
30 minutes (less if you get a thinner piece). As it bakes, the olive oil from
the pesto sort of melts in the heat adding the

wonderful

taste
of basil to the salmon. As it bakes,
put together a
couple side dishes,
set the table, pour the wine, and
Voila!

There you have it!
One of the

easiest

and

tastiest

salmons you will ever make!
I accompanied the salmon with buttered brussels sprouts
(also from the freezer) and another stand by - Julia Child's
Braised Rice.
I can

easily

make it from memory and change
it up now and again.
Her

Braised Rice - Risotto (French Style)

recipe
is in her cookbook,
Julia's Kitchen Wisdom,
"Essential Techniques and
Recipes from a
Lifetime of Cooking". This recipe is also in her
cookbook,
Mastering
the Art
of French Cooking
but the
recipe is a
little easier to follow
in her
Julia's Kitchen Wisdom.
Just so you'll
have it, here is the recipe.
I know you'll

love

it and it has a
much

nicer

flavor than the boiled
rice we grew up with.
Braised Rice - Risotto (French Style)
Source: Julia's Kitchen Wisdom, by Julia Child
Saute 1/4 cup of finely minced onion in 2 tablespoons of butter to soften. Stir in 1 cup of rice and cook, stirring with a wooden fork [!!], for 2 to 3 minutes, until grains look milky. Stir in 2 tablespoons dry white French vermouth and 2 cups chicken stock, add 1 imported [!!] bay leaf, and bring to simmer. Season lightly. Stir once, lower heat, cover, and cook as for basic boiled rice. [I just love Julia Child!]
So - Enjoy - and Bon Appetit!
Please join me this Friday and Monday at: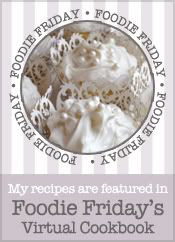 Fondly,
~ Karen